Smo'dis's Shadowquest
---
---
First Lusk
"UG AGIN, SMO'DIS!" The Wargod chuckled as Smo'dis found himself once again in his chamber. "WUD HABBUND DIS TYM??"
"Wel, me wuz clompin ash laffur agh - "
"NUB LY TU ME! DAT LAFFUR WUZ CLOMPIN LAT!!!"
"Uki, uki, su me wuz geddun clompd agh - "
"LAT WUZ CLOMPD!!! DAT AM DA PUINT!!!"
"Yub, yub, dat am id," Smo replied.
"NUW GED GUIN! DER AM GUIN TU BE ASH SURPRYZ FUR LAT!" the Wargod bellowed.
"Surpryz? Wud am id?"
"IB ME BLAHD TU LAT ID WUD NUB BE ASH SURPRYZ! NUW GU!!!"
"Yub sur!" Smo'dis replied as he headed back to the realm of the living.
---
Smo'dis couldn't remember the conversation, as usual. All he could remember was that he was in a foul mood, and for some reason he was also impatient for something.

He raced back to his corpse and recovered most of his belongings, including some bubhosh shinies, and headed back to the fort. He was greeted by a rather large pack of grunts. From there, everything went a bit blurry. Smo'dis could remember a lot of grunts shouting about sponsorship, Cali'hum rounding up the runtees, and being taken into the woods by who he believed was Ukgoth and Fogroth. The next thing he knew, he was running through the deddie uzg carrying a pair of cutters and five rags.

Though he couldn't remember exactly what the shadowquest was, he knew every shadowquest involved getting re-equipped. So he set out to acquire a hatchet for tree cutting and clomping purposes until he could get a letter lusk. First stop: Yew graveyard. Time to learn wrestling.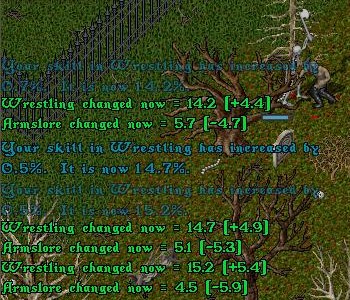 Wrestling turned out to be a bit harder than Smo thought, and he soon found himself ragless and bleeding like a krimped humie.
It was time for Plan "B". He raced through the woods, stealing rags from the healers and stealing shinies from the monsters. Before long, he had almost 200 shinies, which would be enough to buy a lusk from a humie slave. . . but Smo wasn't sure if he could use humie slaves, so he decided to stash the money in a bag until he could remember.
He ran into a headless and attacked, using three rags and praying that there would be something, anything, he could clomp with there. He fought like a dog and was finally rewarded for his courage.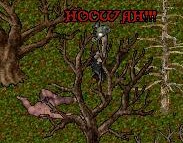 Unfortunately, there was nought but a few shinies and a pair of makr tongs. He clomped another headless and found a bottle of drink! HOOWAH!!! Except still no weapon.
Plan "C" was making his own weapons and armor with no metalworking skills, ore, or shovels. It sounded pretty stupid until Smo found a miner's junk pile of almost 20 iron ore lying on the ground. He grabbed it and raced to the nearest humie hut, where he melted it down. . . or tried to. He burned away all the metal, and thus, Plan "C" was scrapped along with the ore.
Smo'dis didn't have a Plan "D" so he figured he was in trouble. He ran all over the place until he found himself at a familiar area: the crossroads! Normally he would have just run through, but luck had finally shined on Smo'dis. . . and how!
In the dead center of the crossroads was: a clomped humie; wearing FULL BUURZ RING armor; wielding a BUBHOSH lusk! Smo'dis could see it already: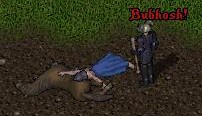 However, he couldn't seem to pull the armor off the dead humie! Try as he might, the only thing he came away with was the lusk. Just the same, lusk meant clomping, and Smo was glad to have it.
Smo's joy was quickly faded, though. As he ran off and hid to take a closer look in the pile of things he found, he noticed a deddi! Smo made a mental note to thank the deddi after his quest, which he forgot as soon as he saw. . . THEM. Humies. LOTS OF HUMIES. Humies the likes of which he'd never seen in one place before.
Still hidden, he didn't think he was noticed. So he did the only thing a brave, honorable orc would do. He turned tail and ran for dear life, until he was out of breath. Exhausted and excited, he collapsed to the ground and fell asleep.
He heard the list in his dreams. Full set of orc armor. Bubhosh lusk. One hundred shinies or one hundred of any resource. However, he heard another voice saying more. He knew somehow that he didn't have to get these additional things, but he also knew that he had to, in order to prove his worth as an orc. This was the challenge. This was the quest.
Smo'dis knew that soon after he awoke, he'd have to set out for that area of the uzg where he would find these items. . . Trinsic.
---
Building an Arsenal
Smo'dis was cold, hungry, naked, and worst of all, lost. He had lost track of time while searching through the Trinsic swamps, and it was already getting late. It didn't seem like so long ago when he was hiding in the woods near Skara Brae, clomping birds and trees to make himself a crude olig and some ligs. He was still cold, naked, and hungry then, but at least he gruked where he was.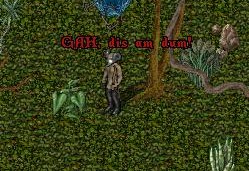 Smo wandered far and wide. Just when all hope seemed to be lost. . . he found his way! A stone he etched his name on a long time ago lying in the ground. He had been here! "Dis am bubhosh nuuz!" he thought as he raced into the swamps where the savages fiercely guarded the treasure that Smo intended to leave with.
His first opponent materialized in front of him. Smo'dis trembled slightly when he saw it was a shaman. . . a mojo-user. Armed with a helmet, boots, skin, and an ever-worsening allergy to mojo, he was sure he was dead meat. He stayed as far back as possible and shot lig after lig after lig into the shaman, and was finally rewarded when her screams of pain turned to a scream of death.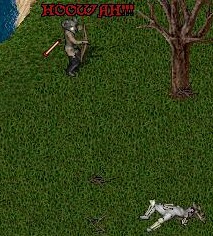 While going through the dead savage's things, Smo'dis was doubly rewarded. One of the special items that Fogroth requested was among the loot - a tribal berry!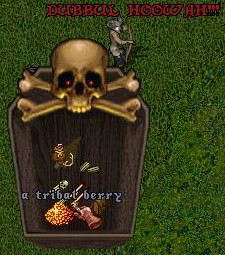 Smo also took the bone armor for equipping purposes, the reagents (tied up VERY tightly in the "mojo bag" Smo found on the corpse), and the shinies, and raced off.
He prayed to the Wargod to send him to the chaos shrine and soon found himself in shardie valley, where he planned to do a better job of re-equipping himself than a couple of pieces of bone armor. After a bit of struggle trying to lure shardies apart, he did do better. With a shardie lusk for clomping, he could save his good lusk for the return trip. In addition, he had a ring tunic! Bubhosh!
After a bit more clomping, he took down a shardie goth - an Orcish Lord. This one was carrying a strange looking ring. Smo'dis looked long and hard at it, trying to figure out what it was. All of a sudden, the ring flared! Smo was no longer there!
He looked up in a panic. No, he was there, just a few paces away from where he was. He looked at the ring again. "Mojo," he whispered, just before he started coughing and sneezing so violently that he passed out.
Smo'dis saw a town. Not a regular humie town. There were no guards here. No bank. All the buildings were huts. And the streets were a war zone. "Sabe Habun," Smo muttered in his semi-conscious stupor. And through it all, he saw a figure of peace and calm. . . a figure holding something that he wanted. . .
Smo'dis came to and rubbed his head. "Gah, dat wuz nubhosh mojo," he muttered. He sealed the ring up in the mojo bag even tighter than before (if such a thing was possible), then sat down and planned his next move.
---
Protecting the Crook
It was quiet. . . too quiet.
Smo'dis hadn't encountered a single humie on his way to the mysterious village of Safe Haven. Either they were all hiding in fear of the mighty orc (hoowah) or they were planning some sort of trap. Smo'dis was a cautious orc, so he suspected the second, though he believed the first was likely true as well.
He saw the second coveted item in his dreams, held by a peaceable humie. He knew that the humie, though peaceful, would never surrender it to him. It saddened him a bit to know that peace had to be overcome by war, but he knew there was no other way. He marched into the town, ready to take what he needed - by force if necessary.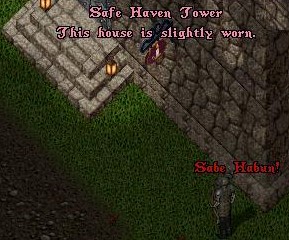 He searched the whole town, but with no luck. Perhaps Smo's dreams had been wrong. . . perhaps the item wasn't here. He turned to go, unsure of where he would head next, when he saw her. A fe-humie. Taking care of animals. She looked so peaceful and calm, kneeling there, leaning on her crook. . .
The crook! That was what Smo needed! He sprinted towards the shepherd but was immediately slowed by voices. Humie warriors. . . two of them. He couldn't be caught now, when he'd traveled so far. He ran past, as if on his way, then hid. After a few minutes elapsed and Smo worked out a cramp in his leg, he tiptoed back north to the point where he could barely see the shepherd. "Wargod, led mi ame be truu," he whispered as he readied his olig. His aim was slightly off. The lig skewered the shepherd but sent her into a panic.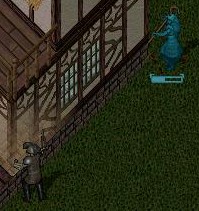 She charged at the orc, feeling that her only hope of survival was to get to him. The next lig soon shattered her ideas as well as her chest, and Smo wrenched the crook out of her still-warm fingers.
On the way back, Smo heard footsteps. He started running faster, and the footsteps got louder. . . he looked over his shoulder and his worst fears were confirmed. There, following him, was a fully armored humie riding an ostard!
Smo dove under some bushes and held his breath. He heard the humie mutter, "Come to Nittney, you smelly little beast." Nonetheless, he kept silent. Clomping was one thing, but he had gotten the crook, and all that mattered right now was getting back alive.
He knew he was in trouble. Nittney wouldn't give up. She didn't have any purple potions, which she confessed herself. Finally, she concocted a plan to bring Smo out of hiding. . . using mojo!
Smo'dis began to sweat. He was highly allergic to mojo. The last contact he had with mojo resulted in him passing out from the reaction. This time, it could be fatal. . .
"In Flam Grav," Nittney muttered. Smo'dis decided to call her bluff. . . and nothing happened! "In Flam Grav," she mumbled again, and still nothing! Smo began to relax.
"IN FLAM GRAV!!!" she screamed.
Out of the corner of his eye, Smo'dis saw it. Something bright. Something dangerous. Mojo. There was no escaping this humie. He had come all this way only to be clomped here. It couldn't end like this, but what could Smo do? He was helpless, only a little gruntee. . . the sheer helplessness of the situation drove him to frustration, which led to anger, which fueled him. . .
"BLAAAAAAAAAAAAAAAARGH!!!!!!!!!
He launched himself out of hiding and brought the shardie lusk over his head, swinging it in an incredible arc which caught the humie square in the side and sent her reeling! She retreated to heal, but in his rage, Smo'dis was as fast as any mount, and he sent another blow square into her barely protected back!
Nittney fell, slumped over her ostard, and with the last remaining bit of life she had, she whispered, "Go." The ostard shot off to Safe Haven, and Smo raced after it, snarling like a mad orc. However, the sight of the humie helpless and lying bleeding on the back of the ostard took the anger out of him, and he just couldn't keep up. He muttered, "dum fuud," and walked off the other way, kicking a rock as he went.
Just then, a pigeon flew into his face. It had a note from X'ugar. It read: Bwing H dwinkee.
"SKAH! Me unli hab dub!" Smo'dis muttered, "agh nub paw armur!" Smo decided to head back to the Yew graveyard and get some.
He found a set of bone gloves rather quickly, and got ready to head off, when he was distracted by two humies. They tried to double-team the little runtee, who managed to outrun them up until he tripped and lay sprawled on the ground, trapped between a large Yew tree, a rock, and the two humies.

Smo'dis put up a heck of a fight, but eventually, two strong, armored humies against one trapped gruntee ends in a predictable manner. . .

---
Gruntee Glory
"SMO'DIS!!!"
The Wargod's voice boomed louder than ever, and echoed in the cavern.
"Wud lat wan?" Smo replied. He was in no mood to show respect to anyone, not even the Wargod.
"WUD AM LAT MOPUN FUR? LAT SHUD BE PROWD!"
"Pr-prowd? Wut fur?" Smo was a bit confused. Hadn't he just been clomped during the Shadowquest? And wasn't that nubhosh?
"ME SEE'D LAT FITIN DER. DER WUZ DUB HUMIEZ AGH DEM TRABBD LAT. DER WUZ NUB WAI TU GED OWD. BUD LAT NUB GABE UB! LAT FAUT DEM AZ HURD AZ LAT KUD! AGH LAT DU'D BUBHOSH, LIDDUL ASH! LAT AM WURFI TU BEKUM GRUNT!"
"Bud me luzt ull da armur agh - "
"SU WUD? ID NUB LIKEE LAT HAB TU DU DA HUUL KWEZT OBUR!"
Smo'dis looked up at the Wargod. "Lat meen, lat gruk abowd. . . abowd. . . "
"ABOWD LAT HIDEEIN LATZ TINGIEZ IN DA WUUDZ WHYL LAT WEN TU GED ARMUR? UB KURZE, ME AM DA WARGOD AGH SEE EBRITING!!!"
"Dat truu. . . me gu bak den, agh ged armur agh dwinkee, agh gu bak ash truu ork!"
"DAT AM DA SPIRID! NUW GU AGH MAKR ME PROWD UB LAT!!!"
"YUB SUR!" Smo yelled. "Dis am guin tu be eezi!"
"EEZI? SHADUWKWEZTZ AM NUB SUPPUZD TU BE EEZI, DEM HARD! BERI HARD! ME MAKR DIS HARDUR FUR LAT!" But Smo was already back in the uzg.
He found himself wandering about in a ghostly form, and saw a nearby humie. Still dazed from the teleportation, he tried to yell, "GIB TRIBUUT!" Well, something must have worked, because as tribute, the humie gave Smo back his flesh and some shinies. The humie then ran off.
Returning to his corpse, Smo found all his armor, his shardie lusk, and his orc helm looted. However, one of the two humies had left his rags on the ground, and he grabbed them. He returned to his hidden bag and retrieved an extra helm and his bubhosh lusk, then began to clomp birds and trees to fashion an olig and 50 ligs. He then headed off to shardie valley again.
He soon had a shardie lusk and ring tunic, and after a bit of clomping, he found a VERY useful item on a shardie corpse - a gorget!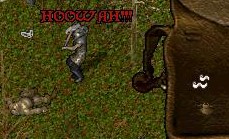 He quickly stashed the gorget in his bag and headed back to the graveyard to get some bone armor to complete his quest. He thought he heard a deep, loud laugh from someplace far away, but he just figured he was still dizzy from being clomped.
After clomping about twenty or thirty shardies and not finding a single useful piece of bone armor, Smo figured something was wrong. He tried only clomping the luskers. He tried only clomping the grubbers. He tried clomping in the fence, at the fence, and outside the fence. But still no armor.
Finally, the Wargod must have decided to give him a break, because Smo managed to get two pieces of armor - the hand and leg armor! Bones lay strewn about everywhere.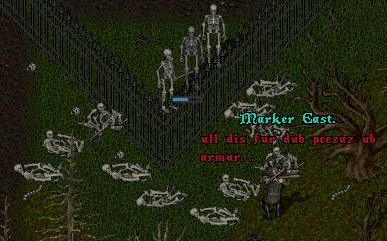 After a bit more clomping, Smo managed to get the arm armor as well, and ran back to his bag. Picking it up, he raced toward the fort. However, he hid near the deddi/orc line, and a humie ran by!
Smo sweated and hoped the humie didn't notice him. The humie seemed to be concentrating on the liches in the area. Finally, when he lost sight of the guy again and heard the sounds of mojo poison, he raced to the fort and made it safe and sound.
However, the fort had been overrun by shardies! Smo had not come all this way to lose his tribute to a shardie, and after some fancy footwork he managed to hide. Spotting a pair of pigeons, he grabbed them, ripped two pages out of the skribbul book he found on a dead shardie during his first trip to shardie valley, and scribbled, "Shaduwkwezt obur. Me hideein in furt. Tuu meni shardeez." He then sent them out.
Before long, the grunts Blok and F'ru showed up to battle the shardies with him! Smo delivered his tribute to Blok and prepared to go to sleep. However, humies showed up, and it was back to the standard life of clomping Smo'dis loved so much.
THE END
Final status and tribute: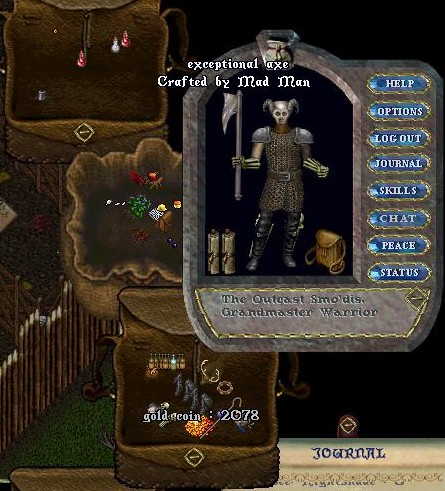 Equipped: ringmail tunic, bone arms, bone legs, bone gloves, leather gorget, orc mask, thigh boots, and an exceptional lusk picked up during the first day
Standard tribute: two thousand shinies (Smo thought one hundred was a bit low and vowed not to return with less than one thousand)
Special tribute: shepherd's crook and tribal berry (requested by Fogroth as the extra part of the quest)
For X'ugar: eight bottles of ale and one bottle of wine (requested by pijun)
For a mojoka: one-three of each reagent, assorted potions, a mojo gorget which nobody can use (plate), and a "gu der" (teleport) ring, tied VERY tightly in a bag
For Gorg'da'Guud: a new horn (maybe a mojoka can mojo it)
For Cali'hum or any other musicians: a new tambourine
For Zugdush or any other stitchers: a new sewing kit
For anyone who needs it: an extra orc helm and two pairs of boots
Also, there were eight piles of wool and the cutters Smo never used. Advice to runtees: take the weapon!