Glitches
The 42 trilogy (Sorry about the .gifs)
One day Asmodeus was practicing some skill on ratmen, when one of them broke his heater shield. Asmo wasn't too happy and decided to gloat over the corpse after he killed it. However, it wasn't quite what he expected. . .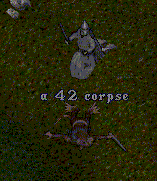 Well, this was strange! Maybe it required more investigation. Asmo THOUGHT he figured out the reason behind the new label. . .

Satisfied with this answer, Asmodeus continued his violent rampage through the ratman camp. Strangely enough, these corpses had 37 and 32 gp, respectively. . .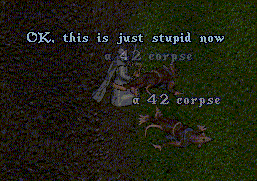 Turns out the reason is that the code number used for ratmen is 42, and the name stopped working for a while. It's back to normal now.
---
Asmodeus meets Ptellom
It was believed that Asmodeus and Ptellom could never meet face to face, due to a strange spell cast by the strange guild of the gods called OSI. Nevertheless, the determined orc-slayer met the dim-witted mage one day, hiding in his friend's house. . .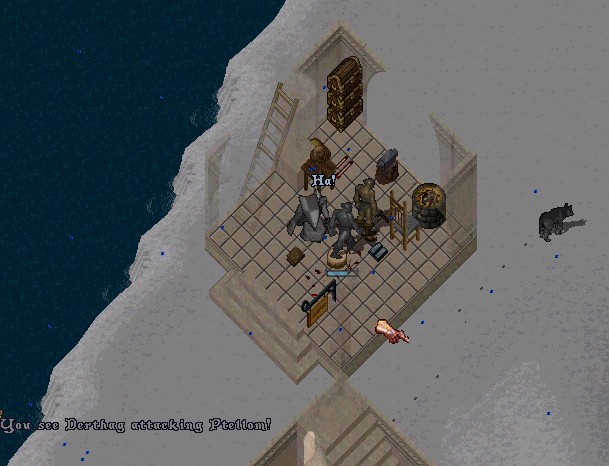 ---
Eternal Ghost, an otherworldly scout from a far-off shard (*cough*still my character*cough*), discovered that even the gods could make use of a dictionary. . .


By the way, it's spelled "pedestal."
---
back to main