Meet duping.
duping ran into a person named Asasination in Trammel Minoc bank. When he saw her, he went into war mode. His next response was as follows.

duping thinks he tried to attack her. Nevertheless, he continues to harass the poor girl.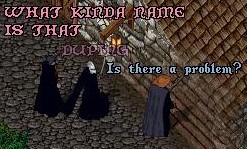 The poor lad seemed a bit confused when she asked this of him.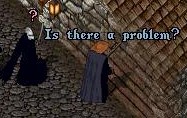 This in turn confused duping, but by this point he had an answer for her.


Unfortunately, duping's photography skills aren't so great. Her writing skills are excellent though, so she caught the last thing he said.